U.S. and Armenian Businesses Look for Ways to Partner U.S. Business Briefing: Armenia
The director of Fund for rural economic development in Armenia (FREDA) Aleksandr Kalantaryan participated in one–day business conference focused on investment opportunities in Armenia for US businesses, held on 18 May 2016 in Yerevan. The event was organized by the U.S. Embassy in Yerevan, the American Chamber of Commerce in Armenia, the Armenian Ministry of Economy, and Converse Bank.
"One of my priorities, as Ambassador, is to further developing our bi-lateral economic ties," said U.S. Ambassador to Armenia Richard Mills, Jr., who opened the conference alongside with Armenian Minister of Economy Artsvik Minasyan. "The Embassy and our colleagues at the Ministry of Economy are working to strengthen our joint commercial ties to the benefit of both our nations' economies."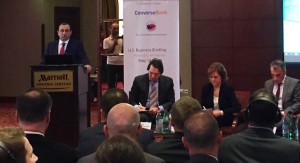 "Reliable partners are critical for building durable and lasting business ties, for implementation of mutually beneficial projects and for making long-term investments. Events like this are a serious boost for further strengthening of economic cooperation, identifying new opportunities for businesses and opening up new markets," said Minister Minasyan. "I am convinced that this new round for development of Armenian-American relations will encourage closer and more effective cooperation between Armenian and American business communities and facilitate establishment of mutually beneficial business ties and identifying new areas of partnership."
Attending the conference were many Armenian business leaders as well as executives from a dozen U.S. firms, which are successful in the region and looking at investing in Armenia. The conference was an opportunity for U.S. businesses to hear from experts and financial institutions about the investment outlook in Armenia. Armenian governmental leaders shared the nation's economic development priorities. The day was also an opportunity for Armenian businesses to discuss future partnerships and deals with their U.S. counterparts.
A dozen U.S. corporations, representing the IT, engineering, energy, consumer goods sectors, manufacturing and chemical industry, sent representatives to Yerevan for the conference, allowing Armenian business leaders access to well-known U.S. companies eager to enter and expand in the Armenian market.
The one-day program featured presentations by the Ministry of Economy and other Armenian Government officials, the Central Bank of Armenia, Armenia's stock exchange, EBRD, IMF and the Asian Development Bank.
The event was conducted as a follow up to the first meeting of the U.S.-Armenia Council on Trade and Investment held in Yerevan in November 2015. The council was established after the two countries signed the Trade and Investment Framework Agreement (TIFA) in May 2015.
During the coffee break the participants and guests of the conference had an opportunity to taste preserves produced by one of the FREDA's client companies – "MEGHRY CANNERY" CJSC