The Armenian representation of Microsoft Corporation, the Fund for Rural Economic Development in Armenia and << Dom Daniel >> LLC signed Memorandum of Cooperation aimed to stimulate development of business automation systems, as well as cyber-physical solutions, enhanced with cloud computing.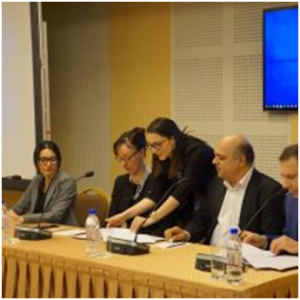 During the  conference titled "the 4th industrial revolution – innovative cloud solutions for small and medium enterprises" held on 5 May 2016 (day 2nd ) the Memorandum of Cooperation was signed between  Microsoft Armenia country manager Liana Korkotyan, the managing director of  Microsoft's public sector business in Central and Eastern Europe Trudy Norris- Grey, the director of Fund for Rural Economic Development in Armenia (FREDA)  Aleksandr Kalantaryan and Chairman of Board of  "Dom Daniel"  Armen Sargsyan. 
As mentioned Liana Korkotyan –Microsoft Armenia country manager – "Based on this memorandum within six months new investment and technical assistance program will be developed both for operating and start-up companies". The director of FREDA  Aleksandr Kalantaryan mentioned that in spite of the fact that there is always a possibility of failure, FREDA will always discuss, finance and constantly consider innovative, risky programs, based on the belief that successful ones will compensate the losses. "The conclusion of this Memorandum within the framework of 4th industrial revolution is an additional step of our development strategy. Within this program solutions will be developed for business assistance, creation of automation and cyber-physical systems, both for local and foreign markets'' added Armen Sargsyan – the Chairman of Board of "Dom Daniel".  
The support provided within the framework of the Memorandum will contribute to business development, automation and cyber –physical solutions enhanced with cloud computes. 
"Everyone today plays its role in changing future, everything is in your hands, I see that the abilities of Armenians are really huge. You can improve the life'' – with this words Trudy Norris-Grey welcomed the participants during the 2nd day of conference.
After the signing of Memorandum 8 Armenian leading IT enterprises, including LimeTech, Teamable, Smart Production (Hay Sell), Margasoft, eHealth, SoloLearn, Monitis and representatives of Microsoft Innovation Center represented their products and activities, based on cloud solutions.
During the first day of conference the parties discussed the effectiveness of improvement of SME's competitiveness, as well as possible cooperation alternatives aimed to increase export competitiveness of rural SME's and information and communication technology (ICT) companies.  The signing of Memorandum was the logical result of these discussions.
We would like to remind that the delegation of high-ranking Officials, headed by public sector business managing director Trudy Norris-Grey participated in conference.